Roma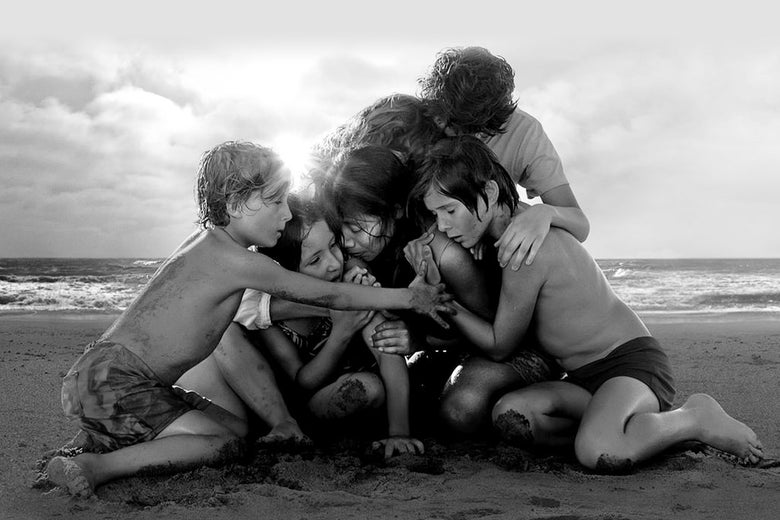 Roma is a Netflix original film about Cleo, a young domestic worker for a middle-class family in Mexico City. The film is written and directed by Alfonso Cuarón, who based the movie on his own childhood and the young woman who worked in his house as he grew up. The film is Cuarón's way of "delivering an artful love letter to the women who raised him" (Renfro 2019).
The film was shot in 108 days entirely in black and white. When asked about his decision to film in black and white, Cuarón stated "If this is a film that's a look at the past through the prism of the present- from my understanding now- it needed to be contemporary: pristine, not grainy" (Cuarón 2018). The film was described as a mural painting and highlighted key elements such as lighting, composition and contrast, making especially prominent the skin tone between Cleo and the family.
When Cuarón finished shooting, he put together a 10-minute reel to show distributors. "Even for an Oscar-winning director, selling a black and white Spanish- language family drama set in the 70's was no easy task "(Ford 2018). Eventually he had chosen Netflix to be the distributors of Roma, with Netflix deciding they were going to release the film in cinema's for a limited time first before making it available to stream. The film went on to receive 10 Academy Award nominations for best picture, a first for Netflix.
The success of Roma expanded globally. A film so enriched with Mexican culture and history, gained a very large audience and sought triumph in both theatres and online. Cuarón insisted Roma to be released in Spanish and only adding subtitles, to portray the cultural integrity and Mexican identity. This therefore demonstrates through the success of the film, cultural hybridisation and how "hybridisation discourse provides a better and richer theoretical alternative, since it accentuates the adaptation and active articulation of global processes with local norms, customs, taste, needs and traditions" (Ryoo 2008). Early screenings of the film had been more emotional for Cuarón, as he described "It was strange, people coming up and hugging, crying… But they're crying about their own memories." Roma is authentic when it comes the actors and how they portray their characters. The portrayal of the characters and their stories, allows for the audience to empathise with the film. Therefore removing the fact this film is in a different language and highlighting that through emotion, us as an audience can connect. This also results in the opportunity for other international films to produce content that is authentic to their cultures and countries.
References
Ford, R 2018, 'Making of 'Roma': How Alfonso Cuaron Painstakingly Re-created His Youth in Mexico City,' The Hollywood Reporter, viewed 15th August 2019, <https://www.hollywoodreporter.com/features/how-alfonso-cuaron-painstakingly-created-his-youth-roma-1156147&gt;
Renfro, K 2019, 'Everything you need to know about the Netflix movie 'Roma,' the groundbreaking film tied for most Oscar nominations this year', Insider, viewed 15th August 2019, <https://www.insider.com/roma-movie-plot-cast-2019-1&gt;
Ryoo, W 2008, 'Globalization, or the logic of cultural hybridization: the case of the Korean wave,' Asian Journal of Communication, Volume 19, 2009 – Issue 2: HYBRIDIZATION OF REALITY – RE-IMAGINING THE COMMUNICATION ENVIRONMENT IN SOUTH KOREA
Tapley, K 2018, ''Roma' Director Alfonso Cuarón on Serving as His Own DP and Recreating His Youth,' Variety, viewed 15th August 2019, <https://variety.com/2018/artisans/production/alfonso-cuaron-roma-1202990464/&gt;